COVID-19 swept through Asia first. Chinese health officials first reported the outbreak to the World Health Organization (WHO) on Dec. 31, 2019, and the rapid spread of the virus prompted aggressive containment measures across the entire region. The impact on the hotel industry was swift and severe, because many Asian travel markets rely heavily on Chinese visitor demand.
Revenue
Tourism Economics noted that in terms of spending, mainland China constitutes the most important outbound travel market in the world, and according to the China Outbound Tourism Research Institute, the top 10 destinations chosen by Chinese travelers in 2019 were all in Asia. The sudden shutdown of this source market, furthered by travel advisories in Europe and the U.S., dealt a heavy blow on revenue generation in Asia — as is noted in this companion piece.
In this article, we dig deeper into Asia, into its countries and cities and across revenue, expense and overall profitability.
Thailand, after China, was one of the first countries to experience the coronavirus scourge. Its economy is highly dependent upon the tourism sector, with international tourism receipts accounting for 20.8% of the country's total exports in 2018, according to the World Travel & Tourism Council (WTTC). And as Chinese nationals constitute the biggest international visitor segment for the market, travel restrictions imposed by China on its citizens have generated a deep demand contraction in the country.
For Singapore, visitors from mainland China account for 20% of total international tourists, according to the Singapore Tourism Board. Consequently, the travel restrictions to and from China that the Singaporean government put in place by the end of January have driven the visitor forecast for the rest of the year down, with an expectation of a full-year 25% to 30% drop compared to 2019.
In Hong Kong, a market that was already struggling with political unrest and civil protests in 2019, arrivals took a 99% nosedive in February 2020 compared to the previous year, according to Hong Kong Tourism Board data as compiled by Bloomberg. This was also the third-worst month in the history of the Hong Kong International Airport (HKIA) vis-a-vis passenger arrivals and departures.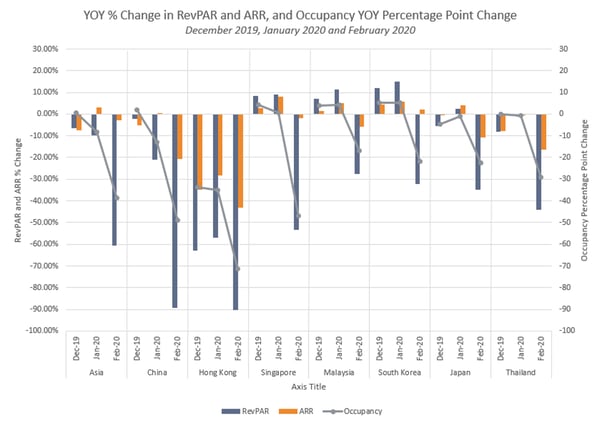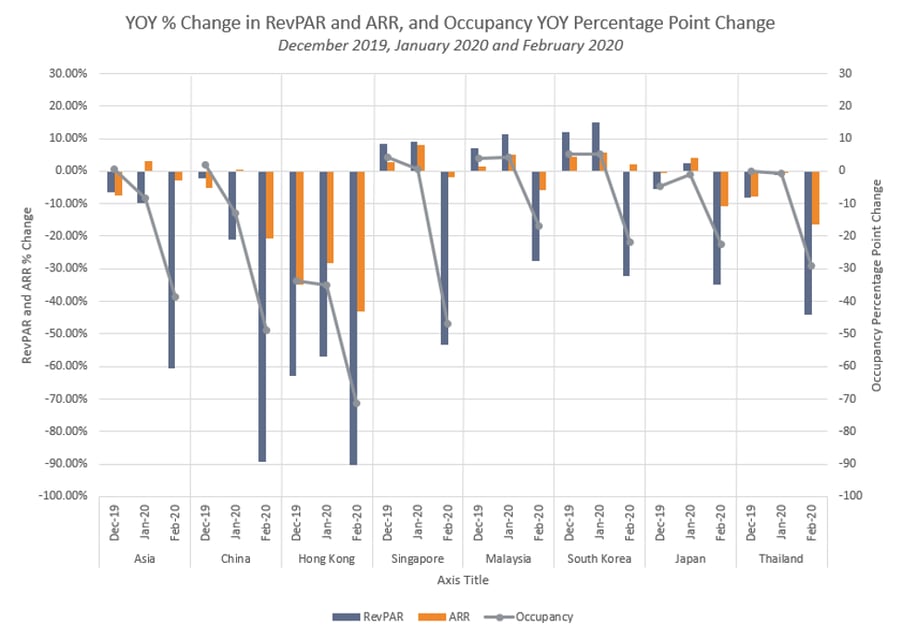 Furthermore, the cancellation of trade shows, conventions and events due to the COVID-19 outbreak affected all revenue streams for hotels, particularly F&B revenue derived from conferences and banqueting. Among the major cancelled events in February were the 2020 Honda LPGA Thailand, SEMICON Korea 2020, the Huawei Developer Conference in Shenzhen and TCT Asia 2020 in Shanghai.
As a result, TRevPAR in Asia recorded an average 56.3% YOY decrease in February. Mainland China and Hong Kong were the two most severely affected of the seven analyzed markets, with 89.9% and 82.7% YOY plunges, respectively. On the other side of the spectrum are Malaysia (down 23.9% YOY) and South Korea (down 24.8% YOY).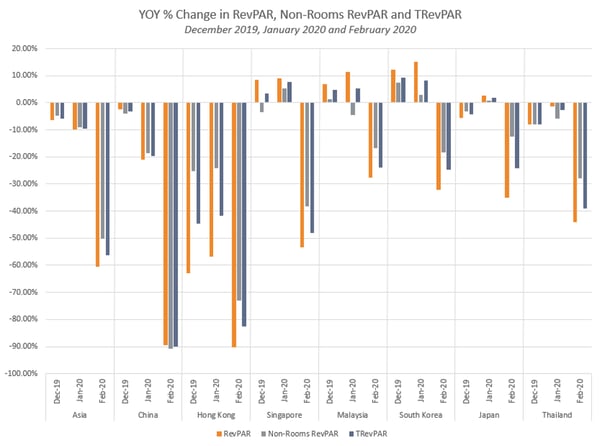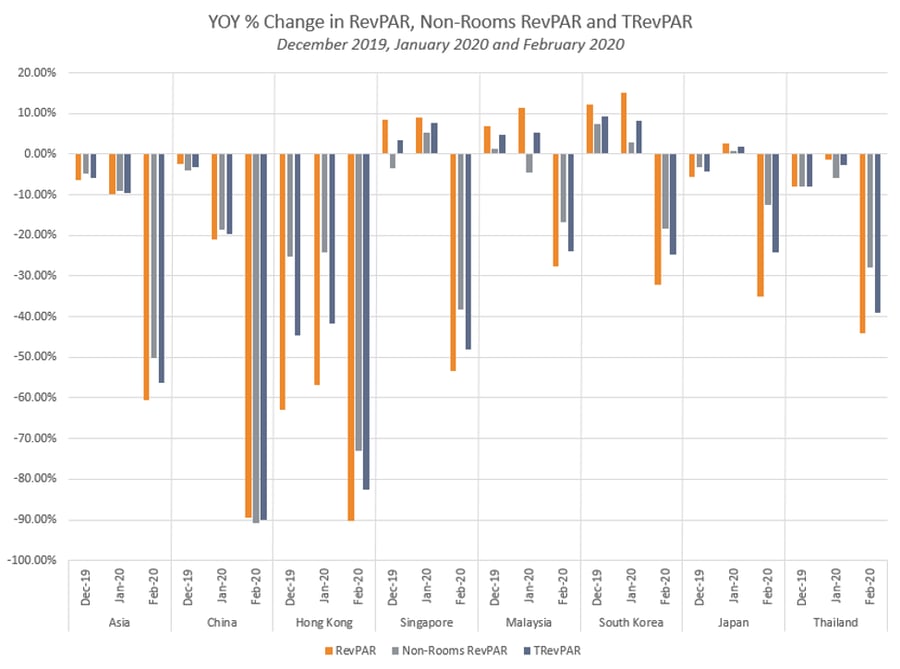 Expenses
Asian hoteliers were able to respond to this sudden change in demand by slashing costs, with total labor costs down by 22.0% and overheads dropping by 26.8% on average. In mainland China, brands decided to close numerous properties preemptively as a way to protect the bottom line and curb the spread of the virus. Just to name a few examples, by the end of February, Marriott had closed 90 of its 375 properties in the country, Wyndham Hotels another 1,000 and Hilton 150.
In other markets, hotels decided to close public areas and reduce their service offering to match the dwindling demand instead of a full-property closure. Thus, in Hong Kong, where both labor and overheads controls were tighter than the Asian average (down 33.2% and 38.4% YOY, respectively), the Peninsula closed its Chesa restaurant as well as its Michelin-starred Gaddi's restaurant in February.
In Singapore, labor costs were cut by 19.4% YOY and overheads by 21.5%. The Hotel Association stated that this downtime will be used by properties to perform renovations and repairs as well as focus on employee training, confident that the market's strong fundamentals will bring about new growth after the pandemic is under control.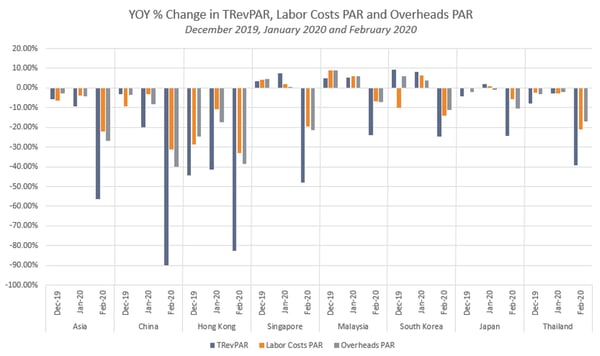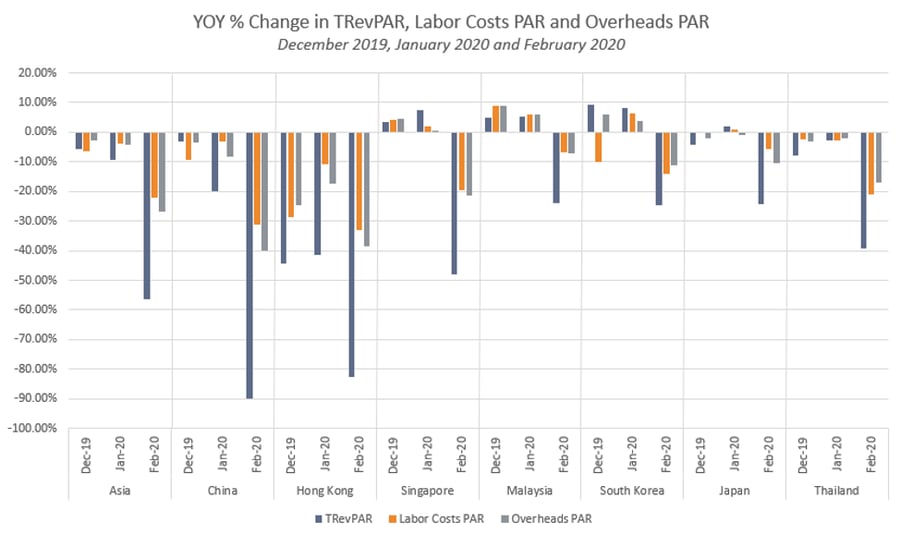 Profitability
Maintaining profitability in this environment is an almost impossible task for hoteliers when there is such a deep and sudden drop-off in demand, even if cost control strategies are in place.
Of the seven analyzed markets, three recorded GOPPAR losses in February: China (-$27.73), Hong Kong (-$68.73) and South Korea (-$1.72). The other four markets were able to maintain gross operating profits despite YOY drops ranging from 80.1% (Singapore) to 53.1% (Malaysia). On average, the region recorded a $3.51 loss per available room, marking a 107.3% contraction from the $48.33 profit recorded in February 2019.
Even though it's easy to get discouraged when looking at these falling GOPPAR numbers, there's a silver lining when analyzing the flex percentages for the period. Flex, which shows how well costs were controlled when there is a revenue shortfall, was positive in February across all analyzed markets as well as the whole region, showing that dollar decreases in GOPPAR were smaller than decreases in TRevPAR.
In other words, hoteliers are becoming more efficient at operating their properties, enhancing their ability to protect the bottom line. So much so that five out of the seven analyzed markets had a higher flex percentage in February than they did in December, before the full-blown effects of the COVID-19 pandemic took hold.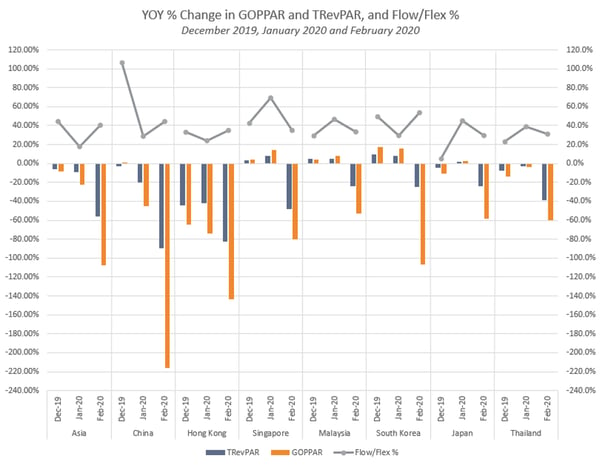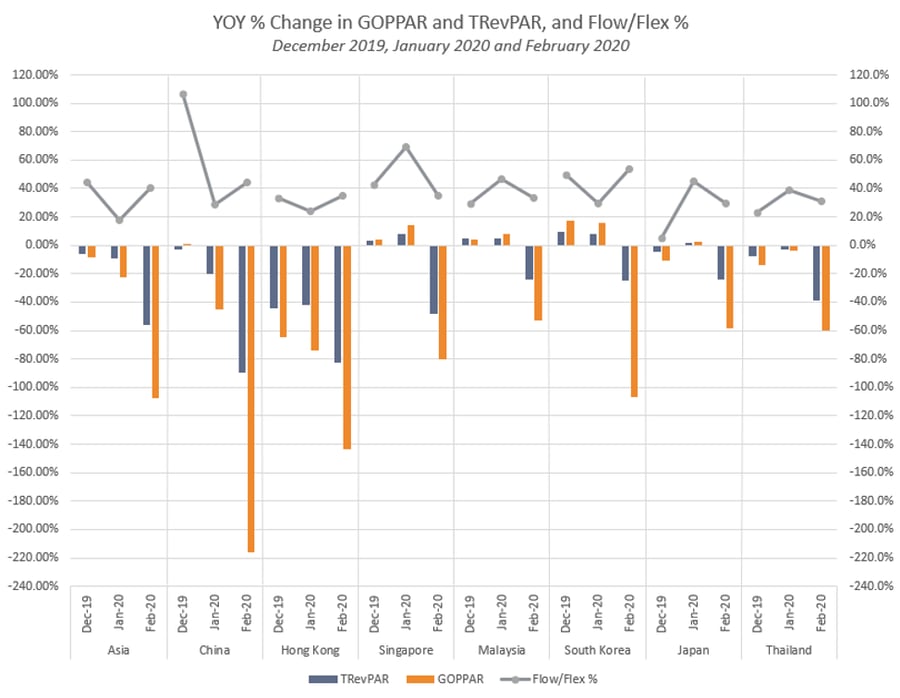 As has been true for other crises in the past, this one too shall pass. And when it does, the efforts put in place during these trying times to increase operational efficiency will only make hoteliers stronger on the rebound.